By Julie Ann Loong for the North Star
The early morning rain did not deter over 500 participants to the 2019 Annual 5K Walkathon organized by the Health Ministry of the Diocese of Chalan Kanoa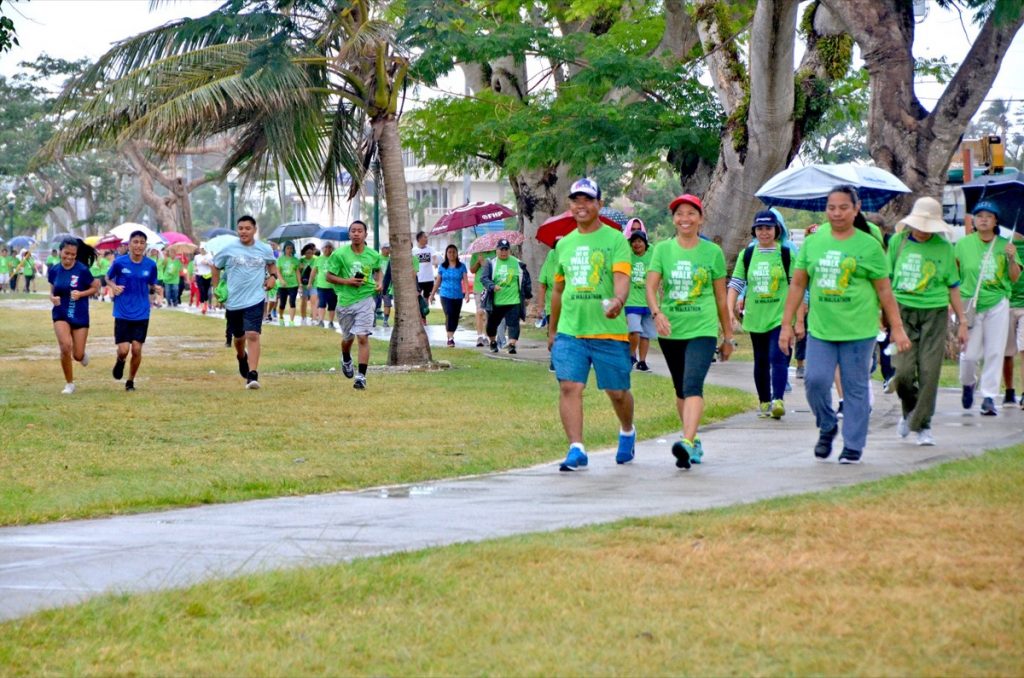 Even if everyone was drenched by the rain, the atmosphere in the parking lot of Kristo Rai Church as full of joy and excitement as the pathway along beach road was marked by a river of people in bright green shirts.
By 5:30 AM, dozens were already lined up at the registration table despite it not being set to open for another half hour. This year's participant T-shirts read, "…come, let us walk in the light of the Lord," (Isaiah 2:5). Green was appropriate to be this year's shirt color because it typically symbolizes youthfulness, hope, and health. The shirts immediately went out of stock within the first thirty minutes of registration, proving that the event had a successful number of attendants.
The Commonwealth Cancer Association and volunteers from the Department of Public Health set up stations that raised awareness on cancer in our islands as well as offer participants free health screening.
Healthy refreshments were also provided for those who wanted to cool down with fruits and water before and during the walk, and freshly baked pandesal was a treat saved for after.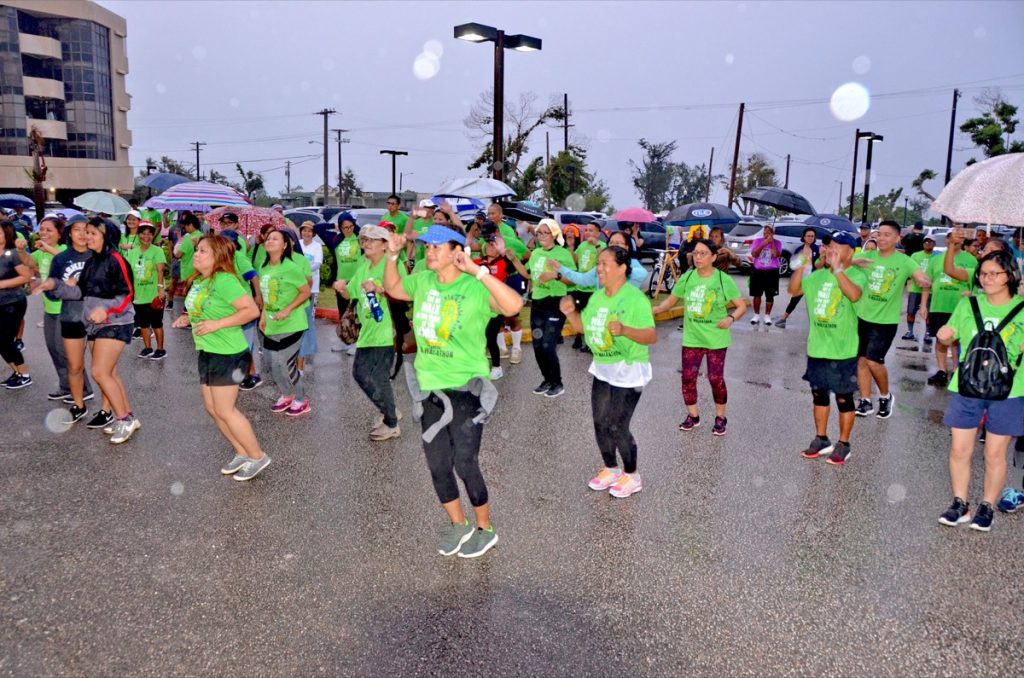 Beginning with a Zumba warm up around 6 AM, the floor was then given to the guest speaker Coach Julian I. Valencia, known as Coach Jay.
Being a certified coach for triathlon and running for eight years, it was fitting that he instructed the group on proper techniques for running and walking and gave advice on staying fit and healthy.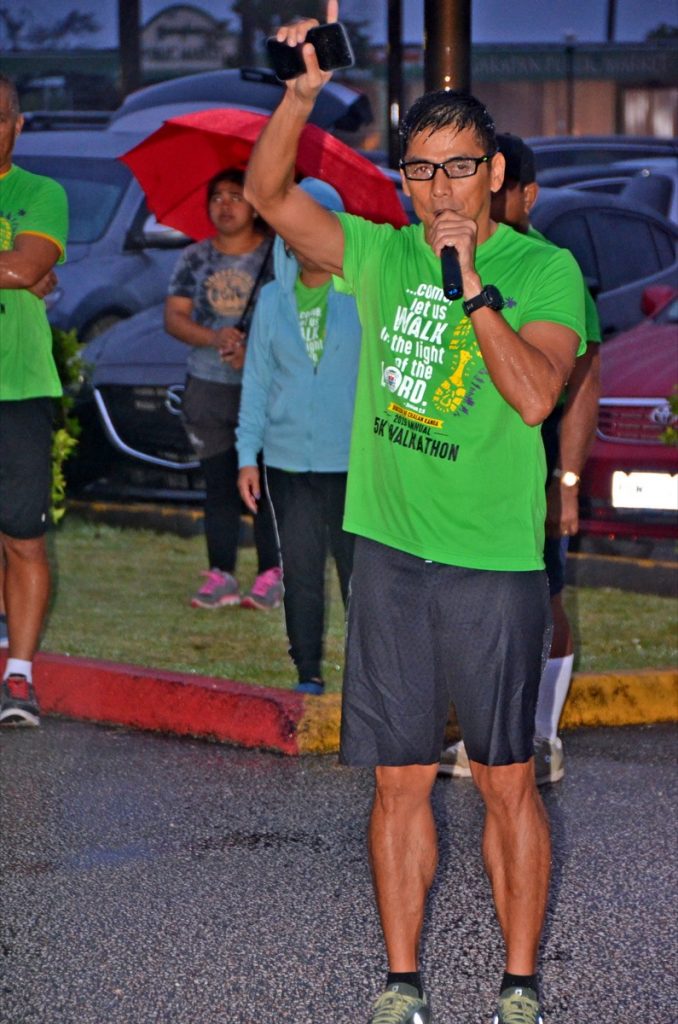 Coach Jay's words of advice included having at least 30 minutes of exercise a day, relaxing your ankles as you run, and walk without facing your feet in an outward "V" form to maximize the results you get while exercising.
"It is my first time here in Saipan and I was personally invited to come by Bishop Ryan, being that we've known each other since he started training to do the New York Marathon. I was invited to conduct several talks on wellness, with triathletes, and this morning regarding proper running for this walkathon. I support this event. This is a very good start, knowing that this is the second year. I'd suggest doing this more often, like every quarter, so that it could really encourage people to live a little bit more active and help them exercise. The key is to be consistent if you want to change the way you live or get into the active lifestyle and since it's a lifestyle, you need to change how you live. Walking is a good start and then you could progress into running and so on. What I always say is this: 'Keep it consistent. Be consistent. Just keep doing it until it becomes a part of your daily life."
After his talk, he and Bishop Ryan Jimenez led the walkathon from Kristo Rai to Quartermaster and back.
The Health Ministry, a part of the Diocese's Commission on Marriage and Family Life, had been planning the event for months. Sherwin Pasillos, a member of the commission and ministry, had shared how the turnout for the day was great.
"We were targeting to reach at least 500 participants, the same number as last year's 5k walkathon, but today all the shirts were distributed which meant we surpassed our goal. Next week Saturday, February 2nd, we will have the same walkathon in Rota. This is the second year that we've done this walkathon, and so we hope to have it continue. For this year, there are some more events under the health committee, so it won't end with just this walkathon. There will be the Youth Camp, Sports fest, Health Fair, and more. The goal of this walkathon was to bring awareness to the island community about the importance of having a healthy and active lifestyle. With Christmas season over, it is the start of the new year and a new journey to a new self."
Members of the clergy, Sisters of Jesus the Good Shepherd, CCD students, and parishioners from all over the island were seen walking and running together that morning demonstrating what it means to become healthier disciples of God.
Special thanks goes out to this year's sponsors: Tan Siu Lin Foundation, IT&E, 3Hi-Res Designs, Triple J Wholesale, Saipan Ice & Water, Gold Ribbon Restaurant, CHCC, CCA, Power99, Magic 100.3, and KKMP. The diocese also wants to acknowledge the members of Marriage Encounter and the Couples for Christ who provided water stations along Beach Road. Also, thank you to all those unnamed who helped out one way or another in making this year's Health Ministry 5k Walkathon successful.